Events
Date: Friday Mar 2, 2018, 12:00 pm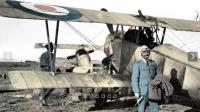 Presentation by Hugh Dolan, author and historian.
Hugh Dolan is a former RAAF intelligence officer and author of a series of historical graphic novels.
Learn how air power was used extensively during the Gallipoli Campaign and the intelligence provided to the commanders and planners before and after the landings. Hugh Dolan, after intensive research, has changed what we know about Gallipoli.
The presentation, lasting about one hour, will be followed by a light lunch. Bus from East Hawthorn is available.
Sorry: Bookings are now closed
View ...