AFA (VIC) President travels to Tetbury, UK for Remembrance Day Commemoration.
AFA Victoria President, GPCAPT (Ret'd) Carl Schiller OAM CSM, is travelling to Tetbury in the UK to take part in the Remembrance Day commemoration ceremony and to unveil a plaque honouring the fallen airmen of the 1st Wing Australian Flying Corps.
The 1st Wing Australian Flying Corps (AFC), comprising four squadrons, trained for aerial combat out of Leighterton and Minchinhampton airfields in the UK during WW1. The Wing's headquarters and AFC hospital were in nearby Tetbury, which is in the Cotswolds region.
Twenty-four AFC airmen who died in training are buried in the Leighterton Church and Lasborough cemeteries. Each Remembrance Day, a commemoration ceremony is held in Tetbury to honour these fallen airmen.
In late 2016, 'The Feoffees of Tetbury' and 'The History of Tetbury Society' sought support from the Air Force Association to create and hang a plaque in the Market House building alongside a presentation made by Oswald Watt in 1919, a renowned war historian, who was also the Wing's Commanding Officer.
The unveiling of the plaque will take place at the Tetbury Town Hall on Remembrance Day followed by a Church Service on the following day. GPCAPT Schiller will visit the graves of our fallen AFC comrades prior to the church service.
A detailed story on the Remembrance Day commemorations in Tetbury will feature in our newsletter and on our website upon GPCAPT Schiller's return.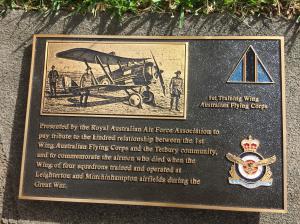 Share this with your friends