Care Packages
From Afghanistan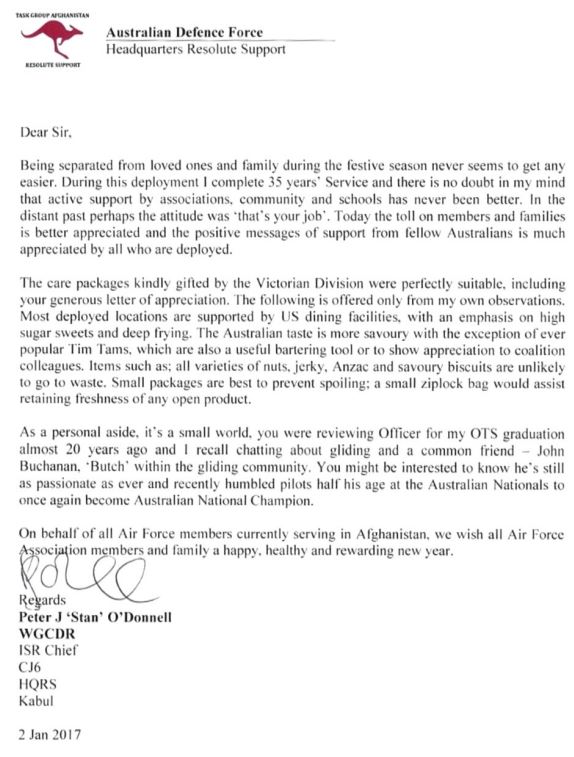 Dear Sir,
Being separated from loved ones and family during the festive season never seems to get any easier. During this development, I complete 35 years' Service and there is no doubt in my mind that active support by association, community and schools has never been better. In the distant past perhaps the attitude was 'that's your job'. Today the toll on members and families is better appreciated and the positive messages of support from fellow Australians is much appreciated by all who are deployed.
The care packages kindly gifted by the Victorian Division were perfectly suitable, including your generous letter of appreciation. The following is offered only from my own observations. Most deployed locations are supported by US dining facilities, with an emphasis on high sugar sweets and deep frying. The Australian taste is more savoury with the exception of ever popular Tin Tams, which are also a useful bartering tool or to show appreciation to coalition colleagues. Items such as; all varieties of nuts, jerky, Anzac and savoury biscuits are unlikely to go waste. Small packages are best to prevent spoiling; a small zip lock bag would assist retaining freshness of any open product.
As a personal aside, it's a small world, you were reviewing Officer for my OTS graduation almost 20 years ago and I recall chatting about gliding and a common friend – John Buchanan. 'Butch' within the gliding community. You might be interested to know he's still as passionate as ever and recently humbled pilots half his age at the Australian Nationals to once again become Australian National Champion.
On behalf of all Air force members currently serving in Afghanistan, we wish all Air Force Association members and family a happy, healthy and rewarding new year.
Regards
WGCDR Peter J 'Stan' O'Donnell
Share this with your friends